When moving abroad to live, work, study or retire, you will likely need documents apostilled or authenticated from the U.S. State Department. Atlanta Apostille helps individuals and businesses obtain federal certificates on documents for overseas use. Our team of professionals will guide you in obtaining proper certificates or stamps by reviewing that your document is in the appropriate format, attaching the correct affidavits, completing the right applications for registering your document, and submitting the document to the proper agencies for quick processing. Our service comes with the promise of dependability and confidentiality.
We specialize in federal apostilles and authentications on documents from all 50 states, the U.S. federal government, and the Courts of District of Columbia for use in another country. Moreover, if you are sending a certified document for foreign use to a country which is not a member of the Hague Convention, you will need an additional legalization certificate from the country's embassy or consulate.
We are located near the U.S. Department of State and all the embassies in Washington, DC. This allows us to achieve the fastest turnaround time for an apostille or authentication certificate from the federal government and foreign consulates. We guarantee correct processing of documents and getting the job done right the first time.
About U.S. State Department Certifications
A federal apostille is required on certain state-issued documents or federal documents signed by a U.S. Federal Official, an American Consular Officer, a Military Notary, Judge Advocate (10 USC 1044a), or a foreign Consul diplomatic official registered with the State Department Office of Protocol.
Examples of Federal Apostilles are: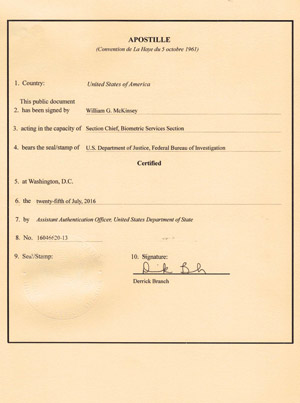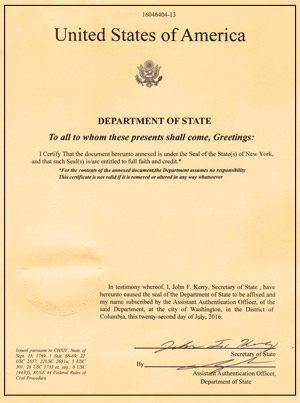 Countries Using the Federal Apostilles
Listed below are the countries that participate in the Hague Apostille Convention with the United States–last official list revised November 2019.
Albania
Andorra
Antigua and Barbuda
Argentina
Armenia
Australia
Austria
Azerbaijan
Bahamas
Bahrain
Barbados
Belarus
Belgium
Belize
Bolivia
Bosnia and Herzegovina
Botswana
Brazil
Brunei Darussalam
Bulgaria
Burundi
Cape Verde
Chile
Colombia
Cook Islands
Costa Rica
Croatia
Cyprus
Czech Republic
Denmark
Djibouti
Dominica
Dominican Republic
Ecuador
El Salvador
Estonia
Fiji
Finland
France
Georgia
Germany
Greece
Grenada
Guatemala
Guyana
Honduras
Hong Kong
Hungary
Iceland
India
Ireland
Israel
Italy
Japan
Jamaica
Kazakhstan
Korea, Republic of
Kosovo
Kyrgyzstan
Latvia
Lesotho
Liberia
Liechtenstein
Lithuania
Luxembourg
Macao
Malawi
Malta
Marshall Islands
Mauritius
Mexico
Moldova, Republic of
Monaco
Mongolia
Montenegro
Morocco
Namibia
Netherlands
New Zealand
Nicaragua
Niue
North Macedonia, Republic of
Norway
Oman
Palau
Panama
Paraguay
Peru
Philippines
Poland
Portugal
Romania
Russian Federation
Saint Kitts and Nevis
Saint Lucia
Saint Vincent and the Grenadines
Samoa
San Marino
Sao Tome and Principe
Serbia
Seychelles
Slovakia
Slovenia
South Africa
Spain
Suriname
Swaziland
Sweden
Switzerland
Tajikistan
Tonga
Trinidad and Tobago
Tunisia
Turkey
Ukraine
United Kingdom of Great Britain & Northern Ireland
Uruguay
Uzbekistan
Vanuatu
Venezuela
Countries Requiring U.S. Authentications
Listed below are the countries that do not participate in the Hague Apostille Convention. As a result, an authentication certificate is necessary for foreign use.
Afghanistan
Algeria
Angola
Bangladesh
Benin
Bhutan
Burkina Faso
Cambodia
Cameroon
Canada
Central African Republic (CAR)
Chad
China (Except for Hong Kong & Macao)
Comoros
Democratic Republic of the Congo
Republic of the Congo
Cote d'Ivoire
Cuba
Egypt
Equatorial Guinea
Eritrea
Ethiopia
Gabon
Gambia
Ghana
Guinea
Guinea-Bissau
Haiti
Indonesia
Iran
Iraq
Jordan
Kenya
Kiribati
Kuwait
Laos
Lebanon
Libya
Madagascar
Malaysia
Maldives
Mali
Mauritania
Micronesia
Mozambique
Myanmar (Burma)
Nauru
Nepal
Niger
Nigeria
North Korea
Pakistan
Palestine
Papua New Guinea
Qatar
Rwanda
Saudi Arabia
Senegal
Sierra Leone
Singapore
Solomon Islands
Somalia
South Sudan
Sri Lanka
Sudan
Syria
Taiwan
Tanzania
Thailand
The former Yugoslav
Timor-Leste
Togo
Tunisia
Turkmenistan
Tuvalu
Uganda
United Arab Emirates (UAE)
Vatican City
Vietnam
Yemen
Zambia
Zimbabwe
Typical Federal Documents Apostilled
The following is a list of documents that we frequently authenticate. This list is not exhaustive. If you don't see your document on this list, please contact us.
FBI Background Check
Certificate of Naturalization
Consular Report of Birth Abroad
Birth Certificates
Death Certificate
Marriage License
Divorce Certificate
U.S. District Court Document
Certificate of Free Sale
Certificate of Origin
Commercial Invoices
Distributorship Agreements
Authorization of Agent
Articles of Incorporation
Power of Attorney
FDA Documents
Animal/Plant Certifications (issued by U.S. Department of Agriculture)
Animal Health certifications (issued by U.S. Department of Agriculture)
U.S. Federal Court Documents check (issued by U.S. Department of Justice)
U.S. Bankruptcy Court check (issued by U.S. Department of Justice)
Immigration Certifications check (issued by U.S. Department of Homeland Security)
Certificate of Foreign Governments (issued by U.S. Department of Health and Human Services)
Certificate of Pharmaceutical/Export (issued by U.S. Department of Health and Human Services)
Trademark (Issued by U.S. Patent and Trademark Office)
Other documents issued by the Environmental Protection Agency, Social Security Administration, or Office of Personnel Management
Diplomas and Transcripts
Teacher Credentials
References and Job Certification
IRS Form 6166
Name Change Affidavit
Single Status to Marry Affidavit
U.S. State Department Authentication Process
The U.S. State Department authentication process involves 3 steps :

If you have any questions, feel free to contact us 24/7 or go to our order form to obtain your US DOS certificate today!