U.S. documents for international use typically require embassy legalizations for non-Hague countries. The embassy legalization process is a multi-step process. It involves coordinating certifications from various county, state, federal agencies and/or foreign embassy. This process can be time-consuming and difficult.
Atlanta Apostille works with all embassies and consulates in the U.S. to validate documents for international use. We evaluate documents for original signatures, proper formatting, and stamp prints and seals to support the validity of the paperwork for submission to these foreign agencies. Additionally, our team of professionals will attach the correct affidavits, complete the right applications to register your documents, and submit the documents to the proper agencies for quick processing.
About Embassy Legalization Certificates
An embassy legalization certificate is used for certifying documents for countries not part of the Hague Convention. These countries do not recognize the Apostille certifications.
Examples of Embassy Legalization Certificates are: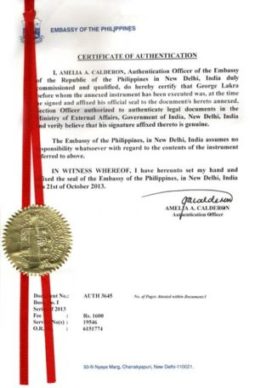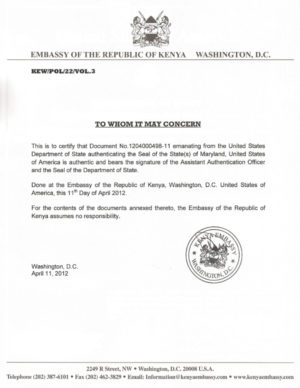 Countries Requiring Embassy Legalization Certifications
Listed below are the countries that do not participate in the Hague Apostille Convention. As a result, an Embassy Legalization Certification form is necessary for foreign use.
Afghanistan
Algeria
Angola
Bangladesh
Benin
Bhutan
Burkina Faso
Cambodia
Cameroon
Canada
Central African Republic (CAR)
Chad
China (Except for Hong Kong & Macao)
Comoros
Democratic Republic of the Congo
Republic of the Congo
Cote d'Ivoire
Cuba
Egypt
Equatorial Guinea
Eritrea
Ethiopia
Gabon
Gambia
Ghana
Guinea
Guinea-Bissau
Haiti
Indonesia
Iran
Iraq
Jamaica
Jordan
Kenya
Kiribati
Kuwait
Laos
Lebanon
Libya
Madagascar
Malaysia
Maldives
Mali
Mauritania
Micronesia
Mozambique
Myanmar (Burma)
Nauru
Nepal
Niger
Nigeria
North Korea
Pakistan
Palestine
Papua New Guinea
Qatar
Rwanda
Saudi Arabia
Senegal
Sierra Leone
Singapore
Solomon Islands
Somalia
South Sudan
Sri Lanka
Sudan
Syria
Taiwan
Tanzania
Thailand
The former Yugoslav
Timor-Leste
Togo
Turkmenistan
Tuvalu
Uganda
United Arab Emirates (UAE)
Vatican City
Vietnam
Yemen
Zambia
Zimbabwe
Documents Typically Legalized by Embassies
Atlanta Apostille handles personal, legal and commercial documents to be legalized by an embassy or consulate. The following are lists of international documents which we have legalized:
Birth Certificates, Consular Report of Birth Abroad
Marriage Licenses, Marriage Certificates, Name Change Affidavit
Death Certificates
Divorce Agreements, Divorce Decree
Court Documents, Affidavits, Sworn Statements
Single Status to Marry Affidavit, No Record of a Marriage
Criminal Record, Local Police, Sheriff's Department Criminal Background Check, FBI Criminal Background Check, Police Report
Power of Attorney (General or Specific)
Passports, Driver's Licenses, Identity Cards
Adoption Papers
Pet Export Papers
Medical Letters
Residency certificates issues by the IRS (form 6166), Social Security Administration Letters
School Transcripts (High School, College, and University), Graduation Records
School Diploma, Degree Certificates, Academic Credentials, Teacher Credentials
Permission to Travel documents, Consent by Parent(s) to travel with Minor Children
Certificate of Naturalization
U.S. Department of Justice Document, U.S. District Court Document
Articles of Incorporation, Articles of Organization, Certificate of Incorporation
Corporate Resolution, Certificates of Amendment, Bylaws, Corporate Forms
Letters of Good Standing, Certificate of Good Standing, Business Licenses and Permits
Authorization letter for Bank, Finance, Office, and company-related matters
Power of Attorney (General or Specific), Authorization of Agent
Certificate of Incumbency
Price List, Certification of Free Sale
Certificate of Analysis, Technical Data Sheet
Merger Agreements, Joint Venture Agreements, Stock Purchase Agreement in Foreign Companies
Business Letter of Invitation
Certificate of Foreign Government (CFG)
Distributorship Agreements, Appointment of Distributor
Certificate of Pharmaceutical Product (CPP)
Department of Health and Human Services Documents
Food and Drug (FDA) Administration Documents
United States Department of Agriculture (USDA) Documents
Patents, Patent Applications, Trademark Applications
Shipping Documents, Commercial Invoice, Certificate of Origin
HM Revenue and Customs Documents
Funeral Documents, Department of Health and Human Services Documents
Canada Revenue Agency Documents
If you don't see your document on this list, please contact us.
Embassy Legalization Certification Process
The embassy certification process involves 4 steps :

If you have any questions, feel free to contact us 24/7 or go to our order form to obtain your embassy legalization certificate today!