Atlanta Apostille works with companies and individuals to certify documents for international use. Our team of professionals will help you obtain the appropriate certificates and stamps by reviewing your document for the correct format, attaching the relevant affidavits, completing the proper applications to register your documents with, and submitting your documents to the proper agencies for fast processing. Our service comes with the promise of dependability and confidentiality.
About Apostilles
An Apostille is a certificate issued by a "competent" state or federal authority for countries where the Hague Convention Abolishing the Requirement for Legalization of Foreign Public Documents, also known as the Apostille Convention, is enforced. The certificate is attached to an original, or certified copy, of a document. The apostille verifies the seals and signatures of officials on public documents such as vital records (i.e., birth, death and marriage certificates), notarized papers, court orders, or any other document issued by a public authority. The apostille validates that a document can be used in another Hague-member country that has a similar, document verification system.
A model apostille looks like this: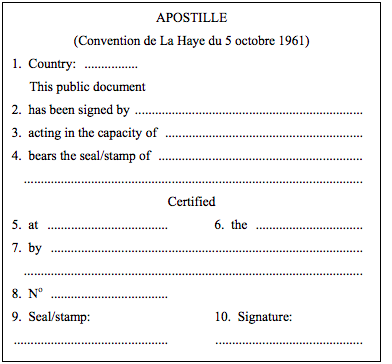 Countries Using the Apostille Certificates
Listed below are the countries that participate in the Hague Apostille Convention with the United States–last official list was revised in June 2022.
Albania
Andorra
Antigua and Barbuda
Argentina
Armenia
Australia
Austria
Azerbaijan
Bahamas
Bahrain
Barbados
Belarus
Belgium
Belize
Bolivia
Bosnia and Herzegovina
Botswana
Brazil
Brunei Darussalam
Bulgaria
Burundi
Cape Verde
Chile
Colombia
Cook Islands
Costa Rica
Croatia
Cyprus
Czech Republic
Denmark
Dominica
Dominican Republic
Ecuador
El Salvador
Estonia
Fiji
Finland
France
Georgia
Germany
Greece
Grenada
Guatemala
Guyana
Honduras
Hong Kong
Hungary
Iceland
India
Ireland
Israel
Italy
Japan
Jamaica
Kazakhstan
Korea, Republic of
Kosovo
Kyrgyzstan
Latvia
Lesotho
Liberia
Liechtenstein
Lithuania
Luxembourg
Macao
Malawi
Malta
Marshall Islands
Mauritius
Mexico
Moldova, Republic of
Monaco
Mongolia
Montenegro
Morocco
Namibia
Netherlands
New Zealand
Nicaragua
Niue
North Macedonia, Republic of
Norway
Oman
Palau
Panama
Paraguay
Peru
Philippines
Poland
Portugal
Romania
Russian Federation
Saint Kitts and Nevis
Saint Lucia
Saint Vincent and the Grenadines
Samoa
San Marino
Sao Tome and Principe
Serbia
Seychelles
Singapore
Slovakia
Slovenia
South Africa
Spain
Suriname
Swaziland
Sweden
Switzerland
Tajikistan
Tonga
Trinidad and Tobago
Tunisia
Turkey
Ukraine
United Kingdom of Great Britain & Northern Ireland
Uruguay
Uzbekistan
Vanuatu
Venezuela
Typical Documents Apostilled
The following list of documents show what we can apostille every day. This list is not exhaustive. If you do not see your document on this list, please contact us.
Birth certificate
Death certificate
Marriage certificate
Divorce decree
Driver's license
Passport (US & foreign)
FBI criminal history report
GBI criminal history report
Police record
Diploma
Transcript
School record
Medical letter
Court documents
Deeds and wills
Adoption documents
Certificate of naturalization
Travel authorization
Single status affidavit
Affidavit of no marriage
Power of attorney (personal & corporate)
Translations
Company Articles
Bylaws
Corporate Amendments
Certificates of Incorporation
Certificates of Existence/Good Standing
Certificates of origin and commercial invoices
Trademarks/patents
Distribution agreement
Apostille Process
Our apostille process is simple. Please go to our order form page and follow the directions for submitting your document(s) to:
Atlanta Apostille
2200 Century Parkway NE
Suite 9
Atlanta, Georgia 30345 USA
If you have any questions, feel free to contact us 24/7 by email or telephone.