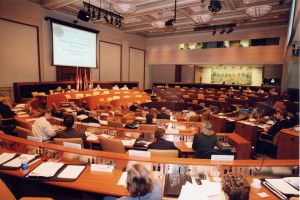 The International Chamber of Commerce (ICC) has urged countries to ratify the  Apostille Convention for simplified certification of international documents.  International shipping of goods require significant paperwork whose origin often require authenticating by third parties and foreign officials.  The Apostille treaty replaces the lengthy and expensive process of legalizing documents that are often involved in a chain of certificates.  The Apostille cuts through a country of origin's red tape by certifying the documents authenticity to foreign administrations.
With the Hague Conference's recommendations on International Private Law, the ICC has encouraged countries to apply to the Apostille Convention in all circumstances where legalization was required and urged countries who have not joined to join the Convention.
The ICC supports the current procedure in many countries of issuing Apostilles for international documents including health certificates, certificates of conformity/origin, and import/export licenses though the scope of the Convention treaty does not include administrative documents directly dealing with customs/commercial operations.