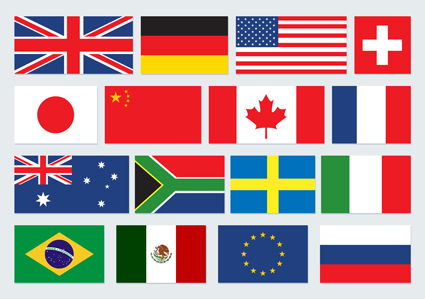 The consulate and embassy legalization process can be difficult and time-consuming, but Atlanta Apostille is here to help.  We will save you time and effort by gathering necessary information and forms for you and completing the document legalization process quickly.
WHAT IS THE EMBASSY LEGALIZATION PROCESS?
If you need to present a document to a country that has not joined the Hague Convention, you will need a document authenticated.  In Georgia, this is called a Great Seal.  On the state level, this process requires obtaining a notary letter before the Great Seal certificate is issued.  Some embassies and consulates will accept the Great Seal stamp before certifying the document. Others, however, will require an additional document authentication from a federal agency before receiving certification from an embassy or consulate of that respective country.  The embassy or consulate requirements vary by country, which adds to the complexity of the authentication process.
OUR LEGALIZATION SERVICE
Our team of attorneys and other professionals will prepare, submit, and complete the legalization process for you in a timely and cost-effective manner.  Our service comes with the promise of dependability and utmost confidentiality.  Our Atlanta Apostille office is located near a number of government agencies, foreign embassies and consulates, thus ensuring a timely retrieval of the required certificates for authentication.
You can bring your documents to our office, mail/overnight them, or we can pick them up if you're in the Atlanta area.  We can process documents the same day for urgent matters.
EMBASSY LEGALIZATION DOCUMENTS LIST
Atlanta Apostille handles personal, legal and commercial documents to be legalized by an embassy or consulate for foreign use.  The following is a list of international documents which we have legalized:
Personal Documents:
Birth Certificates, Consular Report of Birth Abroad
Marriage Licenses, Marriage Certificates, Name Change Affidavit
Death Certificates
Divorce Agreements, Divorce Decree
Court Documents, Affidavits, Sworn Statements
Single Status to Marry Affidavit, No Record of a Marriage
Criminal Record, Local Police, Sheriff's Department Criminal Background Check, FBI Criminal Background Check, Police Report
Power of Attorney (General or Specific)
Passports, Driver's Licenses, Identity Cards
Adoption Papers
Pet Export Papers
Medical Letters
Residency certificates issues by the IRS (form 6166), Social Security Administration Letters
School Transcripts (High School, College, and University), Graduation Records
School Diploma, Degree Certificates, Academic Credentials, Teacher Credentials
Permission to Travel documents, Consent by Parent(s) to travel with Minor Children
Certificate of Naturalization
 U.S. Department of Justice Document, U.S. District Court Document
Company/Corporate Documents:
Articles of Incorporation, Articles of Organization, Certificate of Incorporation
Corporate Resolution, Certificates of Amendment, Bylaws, Corporate Forms
Letters of Good Standing, Certificate of Good Standing, Business Licenses and Permits
Authorization letter for Bank, Finance, Office, and company-related matters
Power of Attorney (General or Specific), Authorization of Agent
Certificate of Incumbency
Price List, Certification of Free Sale
Certificate of Analysis, Technical Data Sheet
Merger Agreements, Joint Venture Agreements, Stock Purchase Agreement in Foreign Companies
Business Letter of Invitation
Certificate of Foreign Government (CFG)
Distributorship Agreements, Appointment of Distributor
Certificate of Pharmaceutical Product (CPP)
Department of Health and Human Services Documents
Food and Drug (FDA) Administration Documents
United States Department of Agriculture (USDA) Documents
Patents, Patent Applications, Trademark Applications
Shipping Documents, Commercial Invoice, Certificate of Origin
HM Revenue and Customs Documents
Funeral Documents, Department of Health and Human Services Documents
Canada Revenue Agency Documents
The following countries are NOT parties to the Hague Convention and will require documents to be authenticated before being legalized by an embassy or consulate:
| | | | | |
| --- | --- | --- | --- | --- |
| Algeria | Afghanistan | Angola | Bahrain | Bangladesh |
| Benin | Bolivia | Brazil | Burkina Faso | Burma |
| Burundi | Cambodia | Cameroon | Canada | Chad |
| Chile | China | Congo Republic | Congo Democratic | Costa Rica |
| Cote | Cuba | Denmark | Egypt | Eritrea |
| Ethiopia | Ghana | Guatemala | Guinea | Haiti |
| Indonesia | Iran | Iraq | Jamaica | Jordan |
| Kenya | Kuwait | Kyrgyzstan | Laos | Lebanon |
| Libya | Macedonia | Madagascar | Malaysia | Mali |
| Mauritania | Morocco | Myanmar | Nepal | Niger |
| Nigeria | Pakistan | Palestine | Paraguay | Philippines |
| Qatar | Rwanda | Saudi Arabia | Senegal | Sierra Leone |
| Singapore | Sri Lanka | Sudan | Syria | Taiwan |
| Tajikistan | Tanzania | Thailand | Tunisia | Turkmenistan |
| UAE | Uganda | Vietnam | Yemen | Zambia |
| Zimbabwe | | | | |
Please note that Atlanta Apostille will not provide services for countries, customers or corporations that fall under the Office of Foreign Assets Control (OFAC) Sanctions Program.